Sam Smith Brings The 'Thrill Of It All' To Release Party
Sam Smith has grown into the kind of man who isn't afraid to take a long, hard look at himself in the mirror, for better or for worse. It's something that requires a sense of awareness, but most certainly some bravery, especially in the 2017 digital landscape. 
It's been days since the release of the British crooner's The Thrill of It All, but his sort of self-aware attitude still seeps into his promotional trek.
Whether he's coming out as gender-non binary, confessing his "life plan" of becoming a father or openly admitting his party-fueled ways when dealing with heartbreak, Smith doesn't really have much to hide and when it comes to the ways of his heart, it's all heard on the new LP.
That sort of heart on his sleeve motto also filled the iHeartRadio Theatre in New York City when the pop star celebrated the release of the album with the iHeartRadio Album Release Party with Sam Smith.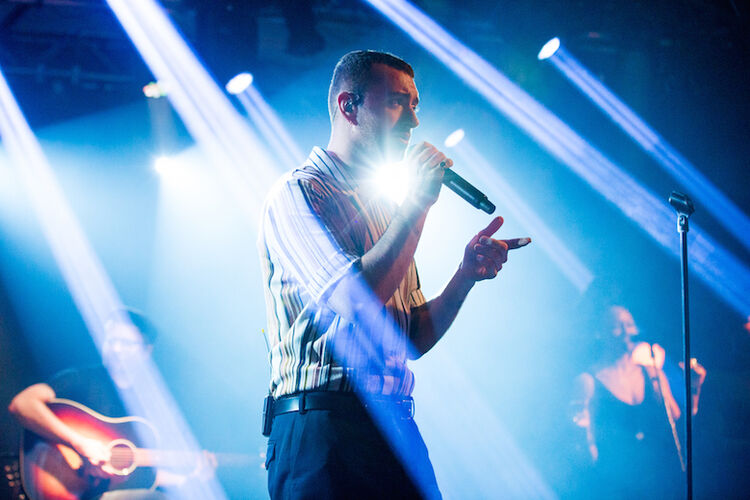 Kicking things off with "Pray," an emotional piano ballad inspired by a brief trip to Iraq, Smith offered the intimate venue his silky smooth vocals, which closely mirrored the exact tone and vocal acrobatics heard on the recently-released LP.
Alongside his band and a trio of backup dancers, the steady Timbaland-produced set the tone for a show that'd make you feel good even if the sentiments leaned on the somber end of things. After all, that's what Sam is good at.
"I feel very comfortable talking about love because I love love songs, but it's weird for me to talk about other stuff," Smith told host of the night, iHeartRadio's Elvis Duran.
"I wanted to challenge myself. Hopefully, fingers crossed, I'm going to get married one day and be very happy, so I want to write songs that aren't about break ups because then it's just a curse. Isn't it?"
Smith followed the candid conversation up with some of his hit love songs that he's so good at, including, "Stay With Me," "I'm Not the Only One" and a piano reimagining of his Disclosure smash, "Latch."
Elsewhere during the show, the chart-topper spoke about his nerves when performing his James Bond-Spectre theme "Writing's on the Wall" at the 88th Academy Awards, where he also falsely declared himself as the first "openly gay man" to win an Oscar.
"Oh God, yeah, I shat myself," he said, prompting the audience to burst out into laughter. "That song is actually too high for me. When I sing that, it actually hurts. I got to grab my balls to sing it. When you're singing that in front Tom Hardy, it's just not cool. I wanted to look sexy in front of him and I didn't."
And yet, those nerves weren't on display during Smith's following numbers: Thrill of It All lead single, "Too Good at Goodbyes," the waltzy midtempo "One Last Song" and "Palace" where he invited his backup singer, Lucy, to join him on the nostalgic cut.
Despite the string of delicate emotions during the 45-minute set, Sam knows his audience just as well as the audience knows him, so a rousing rendition of "Like I Can," where the set illuminated to bright degrees, with Sam and his trio to the very front of the stage, felt like a proper way to close the show.
"Why are you looking down all the wrong roads/ When mine is the heart and the soul of the song/ There may be lovers who hold out their hands but/ He'll never love you like I can," he belted on the hook.
Yes, there are plenty of other love-struck singers to follow, but, as he sang, there is no other like Sam Smith.
James Dinh iHeartRadio US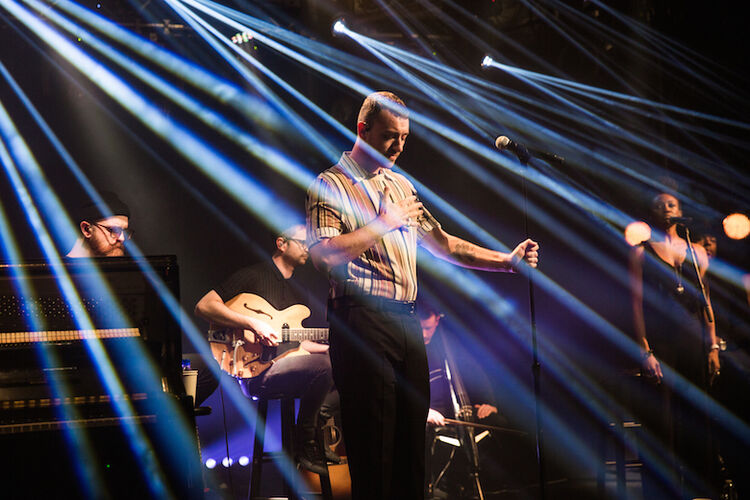 Photos: Rachel Kaplan & Katherine Tyler for iHeartRadio

WIN a TRIP to see SAM SMITH LIVE in Melbourne! Enter HERE.
Powered by Optus, iHeartRadio and KIIS 101.1