The 2017 iHeartAwards Highlight Moments
The 2017 annual iHeartRadio Music Awards went down at The Forum in Los Angeles on Sunday night (March 5), in what was yet another star-studded event.
From The Chainsmokers' out-of-this-world performance to Miley Cyrus' supportive introduction for little sister Noah, the two-hour affair was a must-see for all music lovers. Hosted by Ryan Seacrest, the fifth annual ceremony also included several impromptu moments, which showcased just how wild live television can be. Take a look below for all of the biggest moments from the star-studded affair!

Bruno Mars Ends #iHeartAwards With Innovator Award Win
After a colossal medley of his 2013 hit "Treasure" and newest single "That's What I Like," Bruno Mars helped close out the show by receiving the biggest award of the evening: the Innovator Award. "You guys make me wanna be a better songwriter, a better performer, a better entertainer," he said of his Hooligans. "Innovator is a very heavy word and I'm so honored. It's a little ironic for me because I genuinely feel like I'm just getting started, so buckle up. I don't know where we're going yet, but we going. Keep up, y'all." Watch it all at top!

Chris Martin Starts A Mosh Pit During The Chainsmokers
The Chainsmokers owned the night with a number of wins and, of course, their show-stopping medley of "Paris" and "Something Just Like This" with special guest Chris Martin of Coldplay. For the performance, Drew Taggart and Alex Pall started off with a seemingly tame intro for "Paris," which would transition into their collaboration with Martin.
After making their way to the main stage, the duo hopped on opposite sides of the platform for keyboard action as Martin's silhouette appeared on the smokey stage. It was balls to the walls wild afterward, with the Coldplay frontman starting a chaotic mosh pit with the show attendees. Toss in some pyro and confetti, and it was an explosive showing.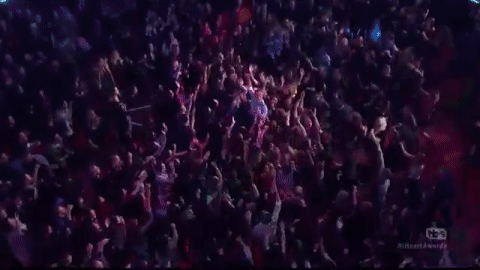 Ed Sheeran Accepts Justin Bieber's 'Love Yourself' Win For Best Lyrics
Justin Bieber's Purpose single "Love Yourself" was presented with the best lyrics of the year accolade, but since the pop star was unable to attend the event, his friend Ed Sheeran, who cowrote the song, accepted the award on his behalf. "Me and [Benny Blanco] started this song in the back of a tour bus and it has gone on to do a lot more than we thought it would," Sheeran said. Blanco, who joined Sheeran on stage, added: "I have to pee."

Katy Perry's Adorable Dancers Read Coldplay's Best Tour Acceptance Speech
Coldplay was presented with the best tour award for their ongoing A Head Full of Dreams trek, which is scheduled to run until October 2017, but viewers weren't met with a typical award speech from Martin. In fact, the frontman accepted the award on the band's behalf and had three kids read their self-deprecating acceptance speech. A little girl stood on a chair and read a letter that applauded the band's makeup team and named dropped One Direction, while Martin reacted quietly to the adorable moment in the background.

DJ Khaled Brought His Son Asahd To Help Him Introduce Ed Sheeran
Get you a man who can introduce you like @djkhaled introduces @edsheeran 😂 ❤️ #iHeartAwards pic.twitter.com/ITvqAnKZNT

— iHeartRadio (@iHeartRadio) March 6, 2017
The 2017 annual iHeartRadio Awards included performances from none other than KATY PERRY, ED SHEERAN, THE CHAINSMOKERS, SHAWN MENDES, THOMAS RHETT, NOAH CYRUS, BIG SEAN AND BRUNO MARS!
Check out the stars on the red carpet and take a look at all of the 2017 iHeartRadio Music Awards winners here.
Follow iHeartRadioAU:
Facebook | Instagram | Twitter
Don't forget you can stream all the iHeartAwards artists on iHeartRadio data-free on your Optus mobile.  Find out more here.